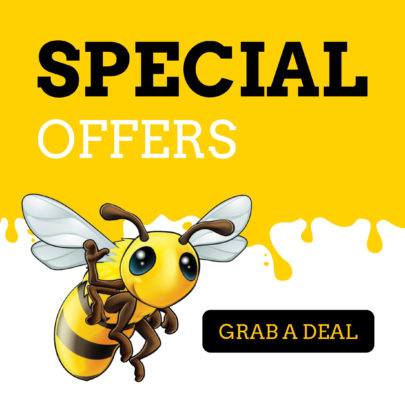 Welcome to our
SPECIAL OFFERS Sale Page!
Our special offer sale page brings you some great bulk-buy discounts on a selection of our most popular products.   These offers will be of especial interest to our commercial customers.
Combine your choice of BEESUITS across ALL our styles to save.  We have arranged 3 different pricing rates for you:  Buy 3+ to receive 4% off; 6+ to receive 7% off and 10+ to receive 10% off.
Combine your choice of BEEKEEPING GLOVES across our range for the same great offer:  3+, 6+ and 10+.
HIVE TOOLS MULTI-BUY!  Purchase 10 tools to receive 20% off across the range (Exception is our Big Brute - receive 10% off)
Click on the pictures below to discover the savings and contact us at
[email protected]
  or freephone
0800 000 770
to discuss your requirements.
Don't forget to order your bee 3.5 and 6L frame feeders also available here.
3.5L Frame Feeder Carton of 30

6L Frame Feeder Carton of 30

Beekeepers Friend Strips x 100

Bulk-Purchase Beekeeper Gloves

Hiveworld's Range Bulk-Purchase Beesuits

Jute Presentation bag for 3 x 500 gram jars

Jute Presentation bag – 2 x 500g Jars

Jute Presentation bag 3X250 gram jars

Plastic frame carton of 50