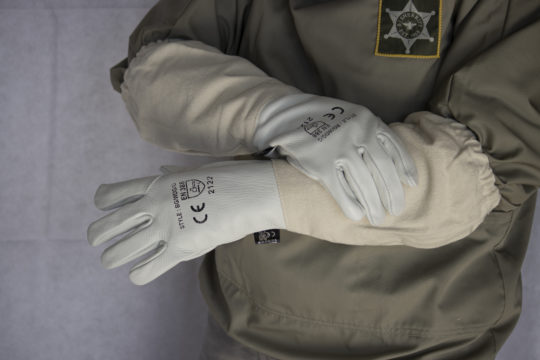 Hive World stock a range of beekeeping gloves to suit everyone.
Top of the range is the beautiful washable leather gloves which will last you for a long time with care.  Super comfortable to wear with a fitted cotton cuff for extra luxury.  Furthermore, they are available in a wide range of sizes from 5 - 12 which means correct fit for everyone!
Our middle range offering is a sturdy buffalo leather glove with a strong cotton gauntlet.  These gloves are well made and reliable thus ensuring you will get great service from them.  They are available in sizes 7-12.
Goatskin gloves provide an economical option as well as being lightweight  to increase dexterity.   Available in sizes Small to XXLarge.  Small will fit a child's hand (our 7 year old was comfortable in it).  The Ventilated style is available in sizes Large to XXL.
We also stock Nitrile gloves with a pack discount, ideal for working with chemicals and for a different option to try.
Beekeeping gloves are a very personal choice as it is essential to feel comfortable and be able to carry out your hive management with confidence.
Bulk-Purchase Beekeeper Gloves

The Beekeeper Beekeeping gloves