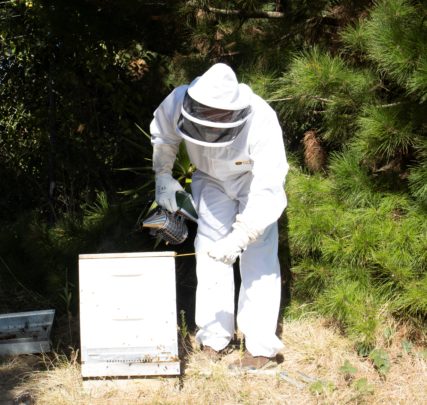 When approaching your beehives, you want to be well covered with no vulnerable bits for nasty natured bees to take advantage of.  (I know there are lots of beekeepers who scorn the protection of gloves and veils.  However,  for the rest of us it greatly adds to our enjoyment of beekeeping to be able to work our hives with confidence).
Beesuits
It is important to find a comfortable, well-made beesuit in which you feel safe with the maximum visibility. Here we offer our own Hive World range:
Hive World Ventilated available as both beesuit and jacket.  Lightweight, comfortable style with quality finish.
Our new Hive World Ranger style available as both beesuit and jacket in Khaki for a practical smart lightweight option.  The closely woven material ensures high protection from the stingers while keeping you cool and comfortable.
The Hive World Pro is our regular workhorse, smart and practical and available in children's sizes as well (120-150cm).
Beekeeper Tip:  
Choose clothing that is light in colour as bees are inclined to look on dark colours as a possible future nesting site if they are feeling swarm-ish!  Of course the mesh on your veil needs to be dark for enhanced visibility.
Gloves
With gloves there is a wide selection.  They are a very personal choice.  Some like a less bulky style so they can feel what they are doing while others prefer a thick gauntlet.  It is ideal if you are able to come to us and choose your gloves from our selection.  Otherwise let us know the size of your clenched fist (not including the fingers) and we will work out the correct size for you.
Other Useful Aids
Apifuge bee calm aerosol is a handy product for using when you wish to deter bees from attacking.  Simply spray on clothing and hands to ensure the bees won't bother you.  This product is a great idea for those involved in transporting bees by helicopter or other situations where you maybe unable to wear a suit due to safety and visibility reasons.
Bulk-Purchase Beekeeper Gloves

Hive World Ranger Beesuit

Hiveworld Replacement Hood

Hiveworld Ventilated Beekeepers jacket

Hiveworld Ventilated beesuit

Hiveworld's Range Bulk-Purchase Beesuits