The Journey of a Bench Hive:
Recently I mentored a 15 year old student building a Bench hive as a Technology assignment for NCEA.
We will document his journey through the year.
He purchased a nuc from a local beekeeper and asked me to help him transfer it into the new hive.
I was a bit disappointed with what he had bought as the frames were nearly falling to pieces and had some pretty old wax on them.   He had also been told they had been treated for varroa, however, we did see some varroa on them so treated them with a couple of Apivar strips.
The bees have now made themselves at home and are building nicely.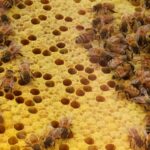 Related posts