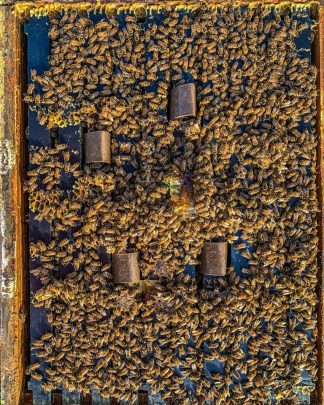 Oxalic-glycerine strips for varroa treatment are becoming more and more popular as beekeepers look to better long-term eco-friendly methods of fighting this pest.  As varroa becomes more resistent to synthetic treatments, oxalic acid is proving a consistently reliable option.
Large commercial beekeepers have been using OVA board/oxalic-glycerine strips for varroa treatment for several years now.  They have cut treatment costs by up to three quarters while still maintaining low varroa levels.
Beekeepers Friend pre-cut compressed board strips are stocked exclusively in New Zealand by Hive World.  They are manufactured in the USA specifically for oxalic/glycerine treatments by the same company that makes OVA Board.  Made from a lighter more absorbent material than OVA board, they are easier to insert in your hive.
Size of the strips is 38mm wide x 380mm long.
Available here –https://www.hiveworld.co.nz/product/ova-board-strips-suitable-for-oxalic-acid-and-glycerine/
A commonly used solution is 4-6 ratio by volume of oxalic acid to glycerine and heated until all the oxalic acid is dissolved.  Place strips in a large bin or other plastic container and leave to soak up the solution. The strips must be dried before using in the hive. There are quite a few You-tube video's available showing how to do this including the following from Kirwee Bees:  https://youtu.be/eY8mqvKrY40?fbclid=IwAR28AdJNr-OSOdK2m0fYzgV-hxGffTr2pbw9Uag5YN48Lj_LYW9UKTAbm8w