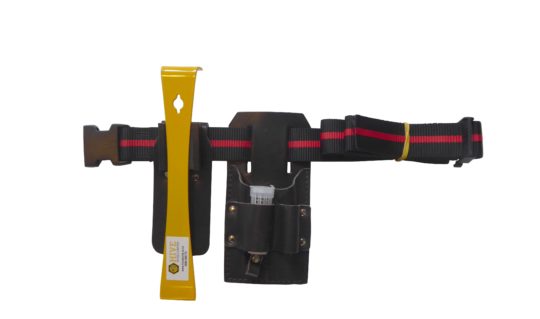 Check out our new hivetool belt designed especially for beekeepers. This is the ultimate beekeepers accessory.  Fully adjustable belt ensures that one size fits all.  We came up with the hivetool belt for Kiwi beekeepers after considering the following:
How many hivetools have you lost over the years?
How many pockets have you ripped on your beesuits?
How many times have you opened your hive and thought @#*!! I left my queen marker (or catcher or tool)in the truck!
Do you get sick of propolis and honey gumming up your hive pockets?
HERE IS YOUR SOLUTION!
Powerful magnet holds  your hive tool safely in place until you need it.  As a result, no more ripped pockets or mislaid tools.
Everything you need to use on the apiary site is within easy reach.  Special slots hold queen cell protector, grafting tool, marking pen as well as a keytag to hold your keyring.  This leaves your hands free for carrying the smoker or vaporiser or whatever else you need for the job on hand.
Designed and manufactured in New Zealand – Check out this great new product:  https://www.hiveworld.co.nz/product/bee-tool-belt/
We also have two sizes of phone pouch available as an optional extra for added usefulness:  https://www.hiveworld.co.nz/product/phone-pouch-large/
Tools shown not included.
Related posts