|
|
|
|
B J Sherriff Bee Suit 4XL
B J Sherriff Bee Suit 4XL
$332.60 Excluding GST
The Sherriff Apiarist Beesuit is without compare, first designed by BJ Sherriff in 1968, it continues to be their bestseller.  A great value investment as your quality made beesuit will last for years and years.
The Apiarist offers extremely good overall protection as it is manufactured using a fine weave, smooth finish, quality polyester cotton which is both lightweight and robust.
Styled with extra pockets for convenience (including a reinforced hive tool pocket) and thoughtfully finished to provide a bee-tight coverage with neat fitting zipped neck and elasticated wrists and ankles with zippers for easy dressing as well as the original Clearview Veil,  Sherriff's own revolutionary design made from black nylon mesh for excellent visibility and protection.  Cool and non-claustrophobic to wear.
You will agree with Sherriff's statement – "The only suit worth having"
Choose your size from the size chart below.  For more information see our blog: https://www.hiveworld.co.nz/b-j-sherriff-clothing-beekeepers/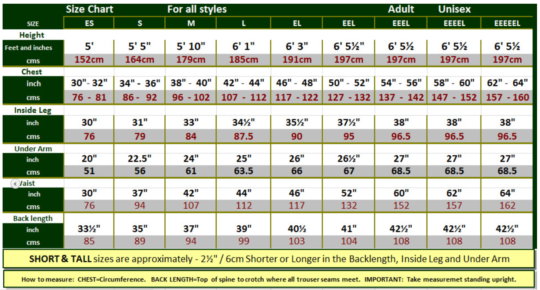 Description
Additional information
Description
The Sherriff Apiarist Beesuit 4XL features:
Light weight polyester cotton with a fine weave and smooth finish.  Consequently, this makes it difficult for the bees to get a grip to sting through.
Sleeves are elasticated and also have velcro to adjust tightness.
Zipped and elasticated legs ensure easy dressing.
Top pockets have velcro.
Reinforced hive tool pocket.
Tough Clearview veil of black nylon mesh. This gives excellent visibility and protection as well as being cool and non-claustrophobic.
Neat neck opening.  The velcro underneath the close zipper fastening gives added security.
Available in White or Khaki.
Every suit is individually tailored in England in order to ensure quality control.
Specify Tall or Short to achieve your perfect fit .
The Sherriff Apiarist Beesuit 4XL can be ordered in the following colours at the same price if order is received for our March/September cut off:
Buttermilk, Lime, Blue, Peach, Pink, Seville, Apple and Mocha.
If you require a special order urgently, there may be a surcharge.   Please contact us for further information.