Many beekeepers in New Zealand are finding the current climate is pretty tough for their trade.  If you're looking for employment opportunities in other places – here's a great job – Royal Beekeeper!
A photo of the queen taken  in 2003 has come to light showing her amusement at a swarm of bees interrupting a formal outdoor ceremony.
Naturally, the Royal Beekeeper had to be summonsed to deal with this unlawful intrusion.  Thankfully, the only injury sustained in the attempted overthrow was to the loyal Sergeant-Major.  One of the aggressors managed to land a sting on his forehead in the bee-line of duty.  However, on all other fronts, reports showed the invaders  successfully rounded up and contained.
The safe removal of the usurping queen appeared to cause much amusement to the reigning queen.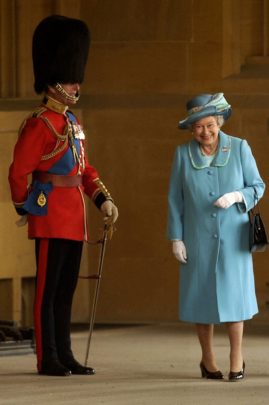 Related posts